Perhaps one of Goliath's most cunning ploys is his use of delay tactics, which could indirectly force you to accept his offer. As we so commonly say, "Justice delayed is justice denied." Goliath loves delays for the same reason: justice delayed is justice denied. This delay approach is often used by Goliath when he recognizes that he stands to pay a significant amount to resolve a personal injury or wrongful death claim. We commonly witness these delay tactics when someone has died or has received a catastrophic injury.
Now, let's be clear on this. Goliath is delaying your efforts, not his. Remember, Goliath does not want you to hire a personal injury attorney or wrongful death attorney, but unbeknownst to you, Goliath's team is working tirelessly to build a case against you. Goliath's team is combing through the automobile wreck scene, preserving evidence it can use against you, allowing evidence to disappear that may implicate Goliath or exonerate you, and obtaining self-serving witness statements.
Also, since Goliath has so much money – and since so many personal injury and wrongful death claimants are clamoring for a share – he can enjoy significant benefits by delaying payouts. The economics work out for him.
But what about you? When your personal injury or wrongful death claim is delayed, you are left to languish in limbo. This is bad because you lose the opportunity to earn interest. It's bad because it leaves you without critical funds to pay creditors and medical bills. It's bad because it creates uncertainty in your life, which creates stress, which in turn creates more mental and physical health problems.
Evidence has a tendency to disappear and memories have a tendency to fade over time. Skid marks disappear. Vehicles are repaired. Automobile collision debris is cleaned up. Witnesses move on and tend to forget the kind of details that are significant. Improperly maintained vehicles are fixed and on board black boxes are erased. This is why timely efforts are so valuable and delay tactics so costly.
Take the typical tractor-trailer collision as an example. Most tractor-trailer collisions produce critical physical evidence that helps reconstruct how and why a particular commercial truck wreck collision occurred. Skid marks, gouge marks and crush patterns reveal critical clues as to the exact location of impact, vehicle closing speeds and involved mechanical defects. Most tractor-trailers have on-board computers or what we typically call "black boxes" that contain precise data that help experts reconstruct a collision. Data from black boxes can reveal the exact speed traveled by the commercial vehicle at the time of the commercial truck collision, can indicate whether the operator of a tractor ran a stop light, and can indicate whether a driver was tailgating the vehicle it collided with during the wreck.
Goliath appreciates just how valuable and detrimental this type evidence can be, so Goliath's team walks through an automobile wreck scene with insurance defense attorneys, experts and investigators in the aftermath of a collision in order to look for evidence to use against you. Rest assured, this evidence can be so valuable to Goliath that he takes extraordinary measures to preserve this information. On the other hand, this evidence can also be so detrimental to Goliath's own case. His team will not look to preserve evidence that could be used later by you against him.
If Goliath is the only one on the automobile wreck scene, he controls the decisions regarding which evidence to preserve and which evidence is allowed to disappear. This is where delay tactics are used by Goliath. Goliath does not want you to have representation at the automobile wreck scene. Goliath has no interest in seeing David or David's investigators and experts looking for evidence that can shine the truth on what really happened.
Let us digress for just a moment to share a typical and unfortunately accepted practice by Goliath's camp that illustrates this point. A family tragically lost a father in a horrific tractor- trailer collision in rural Alabama. Due to delay tactics employed by Goliath, the family did not retain an Alabama commercial truck wreck attorney until more than one year after the collision. No independent eye witness observed the commercial truck wreck. The commercial truck driver survived the collision and testified the victim caused the collision by running a stop sign. The insurance company for the commercial vehicle had experts, investigators and attorneys at the scene on the day of the collision. Quite naturally, the family did not, as their time was devoted to making unexpected funeral plans.
Goliath's team immediately recognized something was inconsistent about its commercial truck driver's version of what happened, and Goliath's representatives observed lengthy skid marks at the scene suggesting a high rate of speed for the driver. But again, Goliath knew that no independent eye witnesses observed the commercial truck wreck and Goliath knew that experts could discredit the meaning of the skid marks.
Unfortunately for Goliath in this case, the on board black box had the capability to give pin-point data regarding the exact speed of the tractor at the time of impact. All Goliath had to do was download a report from the black box. Instead, Goliath decided not to download the report knowing that after 300 engine hours, the data would be erased. Why would Goliath do this? Does this seem like an honest pursuit of justice?
You see, Goliath knew exactly what was on the black box and knew exactly how damaging it could be for his bottom-line. Goliath has learned that it is not his case to prove and so he uses delay tactics to keep you from finding the type of evidence you need in order to defeat him.
Sometimes, Goliath avoids saying anything to you that may drive you to consult with a personal injury attorney or wrongful death lawyer. For instance, he may tell you he accepts responsibility for what happens in an automobile collision without agreeing that he caused the personal injuries you claim are related. Goliath can pay you for property damage while denying any responsibility for your physical injuries. Goliath can lead you along indicating he is going to accept responsibility – only to deny responsibility – once his team has built a case against you.
A classic example of how Goliath delays a typical personal injury case is when a victim reports the bodily injury claim to the automobile insurance company that insures the person who caused the automobile wreck. The automobile insurance company sends out an insurance adjuster to examine the damage to your vehicle. This particular adjuster sends you a check and you get the impression that the automobile insurance company is also going to treat you fairly on the personal injury claim. You are told that a different insurance adjuster will be assigned to handle the personal injury part of your automobile wreck claim. Usually the personal injury adjuster is not local, so you get a call from the bodily injury adjuster. The personal injury adjuster asks to interview you about the automobile wreck and also about your bodily injuries.
You want to cooperate and believe that your cooperation will lead to a fair resolution of your personal injury claim. The personal injury adjuster tells you to send all your medical records and bills to the automobile insurance company once you are finished being treated. Or even worse, he or she gets you to sign an unrestricted medical release form so that the personal injury adjuster can get all of your records. Then, as quickly as the personal injury adjuster sees a pre-existing injury, he or she will use it against you or claim "we don't pay for that."
You continue to see doctor after doctor, therapist after therapist, all the while believing the automobile insurance company will treat you fairly. Medical bills start piling up, and the month-to-month budget becomes tighter and tighter as you miss work because of personal injuries and medical appointments, but you still find hope in a belief that the automobile insurance company is going to treat you fairly. Finally, six months later, you reach the end of your treatment. You send in the medical records and bills, just as you were told to do. You are informed by the personal injury insurance adjuster that the insurance company will need time to review the records and bills.
After 30 days of not hearing from the automobile insurance company, you call to get a status. No one returns your call and so a week later you call again. You are informed by the personal injury insurance adjuster that your claim has been reassigned and that the new personal injury insurance adjuster will need 30 to 45 days to review the file. Finally, some eight or nine months after the automobile collision, the automobile insurance company either denies your claim altogether or offers some ridiculously low offer that will not even touch the mounting medical bills.
While Goliath was delaying you, he was busy looking for ways to strengthen his position. His deception and delay kept you from seeking representation by an automobile wreck lawyer. Now you find yourself in an even higher uphill battle against an industry that thrives on delays, denials and defenses. An even more tragic experience occurs when someone dies from an industrial accident or a tractor-trailer collision. As previously discussed, Goliath fully appreciates the significance of evidence at the scene after a fatality. Likewise, if there was ever a situation where Goliath wanted to keep you from seeking out a David, it is when a family member tragically dies.
Every hour that Goliath can keep you from getting representation, so he can have an opportunity to preserve critical evidence is an hour that Goliath can use to his advantage and your detriment. One of the most despicable methods employed by Goliath is his use of playing upon a victim's sympathy in order to buy time to delay and mislead. Something Goliath might do to keep the victims in such a scenario from seeking representation is offer to pay for a funeral — not because it is the right thing to do, but because he knows it will delay you from seeking representation from a wrongful death attorney. A family may be less likely to hire a wrongful death lawyer or law firm after such an offer, but the price of a funeral is small in comparison to the value of what Goliath gains by keeping you from the accident scene where the critical evidence needs to be preserved. And oftentimes, once Goliath finishes his work, the family is informed that Goliath will not be accepting responsibility for what happened. These tactics used by Goliath are time tested and refined. Big companies have mastered their techniques and effectively learned how to limit payouts to worthy personal injur victims and increase the profits on their companies' bottom line.
The natural tendency when an accident, personal injury, or death occurs is for a family to take the position that they are not going to think about legal matters right now. They need to get through the funeral or give the bodily injuries time to heal, and then they will find out if the insurance company is going to do the right thing. Healing is certainly the most important thing. However, the insurance company wants you to have that attitude because it saves them money.
Having the right personal injury and accident law firm involved from the very beginning makes all the difference. You need a legal team on your side in order to handle and take care of the legal aspect, while you and your family take care of all the things that need to be done to heal.
You must be aware of the fact that Goliath wants you to take your time, which could pave the way for your family to never receive justice. To break out of limbo, you need to compel Goliath to break his will in the "3-D" policy that insurance companies have to delay, deny, defend.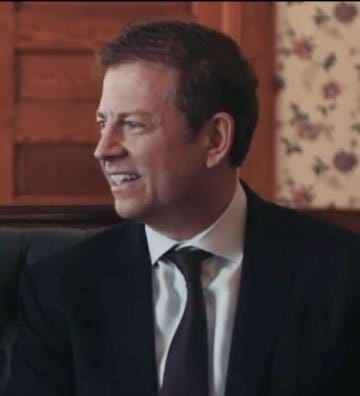 Aaron Gartlan is a graduate of Troy University and the Thomas Goode Jones School of Law who focuses his practice exclusively on representing those injured by the wrongdoing of others. He is member of the National Trial Lawyers Association's Top 100 Trial Lawyers, Million Dollar Advocates Forum and Multi-Million Dollar Advocates Forum. In addition to his legal practice, Aaron teaches Business Law as an adjunct instructor at Troy University's Sorrell College of Business and serves as a field artillery sergeant in the Alabama National Guard.