Dothan Alabama Personal Injury and Accident Lawyer Aaron Gartlan of the Gartlan Injury Law recently settled a claim with Farmers Insurance Company without filing a lawsuit on behalf of a good, honest, Alabama retiree for injuries and damages, including pain, suffering and mental anguish that she sustained as a result of a rear-end collision she experienced as a passenger, which was prompted by a careless driver. She was referred to the Gartlan Injury Law after the car wreck, by another attorney.
Immediately following the wreck, the nice Alabama woman was placed on oxygen by EMS and transported on a stretcher by ambulance to a local Medical Center. Her condition was documented as a priority 1 with a great deal of neck pain and anxiety about being immobilized. Upon arrival, she complained of pain in left parietal area, left occipital area, left base of skull, right occipital area, right base of the skull, occiput, left mid cervical area, left trapezius and lower cervical area. She was diagnosed with Myofascial Cervical Strain, instructed to follow-up with her private physician in two to three days, physical therapy, prescribed Flexeril and Lortab and discharged to home via wheelchair.
A few days later, the nice Alabama woman received treatment at a local urgent care facility for a strained nerve in her neck, shoulder pain and headaches she suffered subsequent to the accident. The clinical impression was post concussion syndrome, neck pain, neck spasm and shoulder pain. Her recommended treatment course was to continue medication as prescribed and return as needed. At a follow-up appointment from the accident, her chief complaint was neck and shoulder pain and pain on the top of her head. The clinical impression was neck pain subsequent to the car accident, and her recommended treatment course was to continue prescribed medications, follow-up with her family medical doctor, take ibuprofen for the pain and possibly physical therapy.
Due to the persistent pain, discomfort and anxiety the nice Alabama woman continued to experience as a result of the accident, she consulted with her primary care physician, which referred her to an orthopedic doctor for the pain and to therapist for clinical mental health counseling. Then, an x-ray was performed and physical therapy was ordered. She underwent extensive physical therapy as ordered. Under advisement of her family doctor for the continued anxiety she experienced as a result of the car accident, she received treatment from a clinical mental health counselor and described her chief complaint as, upset stomach, restlessness, anxiety, fear, rapid heart-beat, tachycardia, sweating, shortness of breath, shaking and feelings of de-realization. The clinical impression was that she experienced a conditioned response to the traumatic event of the car accident. Therefore a treatment plan was recommended and implemented that focused on the use of desensitization strategies and follow-up care.
The insurance industry likes to label this as a "minor" rear-end collision or a "soft tissue" injury in an effort to discount the injuries and damages and value of the claim. However, as you can see from this brief summary, the injuries and damages, such as: medical bills, pain, suffering and mental anguish are very real and can have a lasting impact. If you find yourself in this situation, you must focus on the healing of your injuries and seek the advice of the right personal injury and accident law firm. It is imperative to do both as soon as possible after a car wreck. You must understand, the insurance adjuster has a job to do. Part of that job is to pay you the least amount possible for you bodily injury claim. You deserve to be treated better.
The Gartlan Injury Law is proud to receive referrals from other attorneys. This means that the Gartlan Injury Law has gained their confidence and trust, which is a relationship that has been worked hard for and is taken very serious.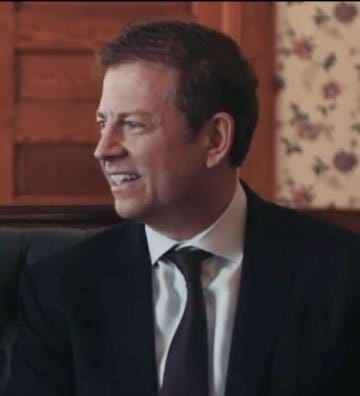 Aaron Gartlan is a graduate of Troy University and the Thomas Goode Jones School of Law who focuses his practice exclusively on representing those injured by the wrongdoing of others. He is member of the National Trial Lawyers Association's Top 100 Trial Lawyers, Million Dollar Advocates Forum and Multi-Million Dollar Advocates Forum. In addition to his legal practice, Aaron teaches Business Law as an adjunct instructor at Troy University's Sorrell College of Business and serves as a field artillery sergeant in the Alabama National Guard.