Goliath is not opposed to hitting below the belt in his quest to disparage personal injury lawyers. Here are famous examples. Several years ago, news services lit up with reports about a man who got hit by a baseball at a minor league baseball game. He sued for a ridiculous amount of money for his injury. The case caused a huge stir online and elsewhere. "When you attend a ballgame, you assume certain risks," lashed out the outraged critics." "This case makes a mockery of our system of justice!"
These attacks resonated emotionally with people who do not like lawsuits very much. But there was a small problem. Turns out, there was no such case! There never had been. Goliath had made up the case out of wool's cloth and spread the story around — all for the purpose of nurturing this mythic idea that frivolous lawsuits are ruining America.
The Actual Reality: While crazy cases do crop up, don't be fooled. Nonsense cases are extremely rare. The point is that you really must think critically. You must question some of the stories you read in the news, particularly when they pertain to "tort reform," because even when you do find examples of lawsuits that sound absurd – and these do exist – you should pay attention to what the great detective Sherlock Holmes once called "the dog that didn't bark." Ask yourself: What is the story behind the story? In technical terms, you want to be on the lookout for what are called "counterfactuals." This is the invisible "stuff " you can not see that can turn out to be hugely important. They did not wear their seatbelts?
That's right. In certain freak crashes, victims got flung from their vehicles and survived… and had they been belted in, they would have died. Does the existence of these freak accidents mean that we should tell people to stop wearing their seatbelts? Of course not! No way. The science and the statistics are crystal clear: seatbelts save lives. Period. This is one of the most fundamental, unquestioned rules of auto safety.
Likewise, the existence of one or two frivolous lawsuits that you read about in the newspaper or see on television should not be of serious concern. You need to look at the stories in context. You need to look at the statistics and the science. And when you do so – like the group at Harvard did – you'll see that the evidence is overwhelming; the idea that "frivolous lawsuits are destroying America" is an easily disprovable myth.
A Harvard Risk Management Foundation study, led by top level researchers at Harvard's School of Public Health, looked at nearly one thousand five hundred (1,500) malpractice lawsuits. In more than nine (9) out of ten (10) claims – over percent (90%) – the patient had an actual injury. In six (6) out of ten (10) cases, this injury stemmed from a doctor's wrongdoing. In one out of four cases, the victim actually died as a result of the bad care.
But ask yourself: do you really believe that? If so, where's the evidence to prove it?
In addition to other ranting, tort reformers argue that lawsuits are driving doctors out of business. But the truth, according to the American Medical Association, is that the overall number of physicians is up more than 40 % since 1990, while over the same time, the U.S. population increased by only eighteen percent (18%).
The Alabama court system has several built in protections for weeding out cases that are not based on merit. For instance, when any tort case is filed in the State of Alabama, a defendant has an automatic right to challenge the legal sufficiency of a case by filing a Motion to Dismiss. As the case develops from a factual standpoint, a defendant can challenge the legal sufficiency of a case through the filing of a Motion for Summary Judgment.
At trial, a defendant can challenge the legal sufficiency of a case by asking a case be dismissed at the close of a plaintiff 's case and again at the close of the presentation of evidence. The jury then gets to make a decision based upon the facts, evidence and the applicable law. For a plaintiff to win in Alabama, twelve (12) people on the jury must all agree that the plaintiff is entitled to win and all twelve (12) must agree on the amount of the verdict. If a plaintiff prevails through a jury verdict, the defendant can then ask the judge to review the verdict and ask to toss out the verdict or reduce the amount of the jury verdict. After the judge conducts her final review, the defendant can ask an Appeals Court to review the case. The Appeals Court can throw out the verdict, reduce the amount of the jury verdict or even require a new trial.
In Alabama, appellate courts are routinely reversing cases. More than seventy percent (70%) of civil cases reviewed by the Alabama Supreme Court are reversed in some manner.
The Alabama courts even have a mechanism for dealing with "frivolous" lawsuits. Courts can award the losing party court costs and can even sanction lawyers and parties for any "frivolous" filings. With all of these built-in protections, why would any personal injury attorney worth anything file a "frivolous" lawsuit? How could a "frivolous" lawsuit in Alabama make its way through all the built-in protections for defendants?
Personal injury attorneys have their hands full already trying to win the good cases. Trust us, we are not going to spend time trying to file a case that need not be in the system. Unfortunately, Goliath does not want you to know the truth. He suppresses the reality from you. He can afford an extensive marketing campaign and he has effectively convinced many people of the myths. The reality is that the vast majority of lawsuits are not just legitimate – they're necessary. Otherwise, how could victims cope, pay for their care, and see justice done?
What Goliath does not want you to know is that many lawsuits are filed because Goliath will not accept responsibility for his own actions. Some lawsuits have to be filed as soon possible for reasons that will be discussed later. Most noteworthy personal injury attorneys try to resolve a claim short of filing a lawsuit if the insurance company is willing to be fair and reasonable. Sometimes, through proper work personal injury attorneys can get insurance companies to resolve claims in that manner, but sometimes lawsuits are filed after Goliath refuses to accept responsibility.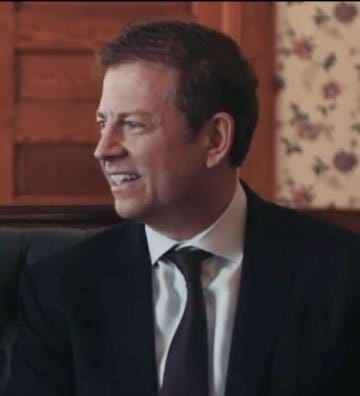 Aaron Gartlan is a graduate of Troy University and the Thomas Goode Jones School of Law who focuses his practice exclusively on representing those injured by the wrongdoing of others. He is member of the National Trial Lawyers Association's Top 100 Trial Lawyers, Million Dollar Advocates Forum and Multi-Million Dollar Advocates Forum. In addition to his legal practice, Aaron teaches Business Law as an adjunct instructor at Troy University's Sorrell College of Business and serves as a field artillery sergeant in the Alabama National Guard.