The Alabama personal injury and accident trial lawyers of the Gartlan Injury Law in Dothan welcome your questions and you regarding this discussion regarding Goliath's natural allies and strategies. We hope to hear from you if you need us.
As a deep-pocketed individual, Goliath has friends in high places. His natural allies include healthcare providers, politicians, judges, lobbying groups and big businesses.
Goliath boasts cozy relationships with politicians, lobbyists, and businesses — and even institutions designed to protect consumers and victims. Some (true to life) examples of Goliath's flouting of his power are so extravagant that they sound like they are pulled from comic books.
Here are five strategies Goliath and his allies use:
Strategy #1: Limit claims to make more money.
The less money Goliath and his allies must pay for your claim, the more money they get to keep as profit. This is simple, irrefutable fact. Many of Goliath's strategies – especially how he leverages his relationships with his allies – flow from this fact.
Strategy #2: Goliath and his allies trumpet myths about Tort Reform.
In section one, we went over (and exploded) eight of Goliath's favorite Tort Reform myths. Like a vampire or a zombie, however, these myths just will not die, no matter how many facts are hurled through their hearts. Healthcare providers, businesses, lobbying groups, and politicians and judges allied with Goliath all have an interest in maintaining the status quo – that is, blaming attorneys and victims to deflect attention from their own faults. To that end, they join in the Amen chorus about Tort Reform. Unfortunately, Goliath and his allies have enormous microphones – incredible power to shape the conventional wisdom. So the myths they create become entrenched in our culture and extremely difficult to dislodge.
Strategy #3: They buy judges and legislators.
This claim may sound absurd — a bridge too far. After all, we have grown up believing – or at least hoping – that our elected officials and the judges who preside over legal system act ethically and objectively. Indeed, many judges and legislators are fine civil servants. But do not underestimate the political power that Goliath wields…
This is just the tip of the iceberg! Please, continue to follow this story and join us for the next installment for an educational and thought provoking journey. We also have many other resources available for you designed with your concerns, your family and you in mind. This can help you right now. We welcome you to visit our law firm to get to know us better, or call to see if we can help. If you are not ready to do that, just take advantage of the live chat or messaging features or send us an email. We look forward to hearing from you and getting to know you better.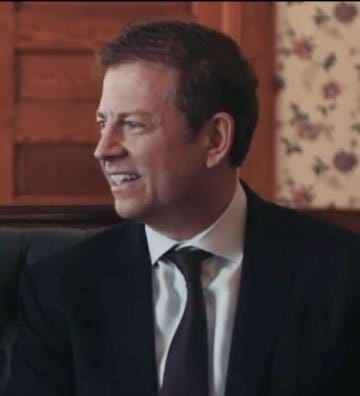 Aaron Gartlan is a graduate of Troy University and the Thomas Goode Jones School of Law who focuses his practice exclusively on representing those injured by the wrongdoing of others. He is member of the National Trial Lawyers Association's Top 100 Trial Lawyers, Million Dollar Advocates Forum and Multi-Million Dollar Advocates Forum. In addition to his legal practice, Aaron teaches Business Law as an adjunct instructor at Troy University's Sorrell College of Business and serves as a field artillery sergeant in the Alabama National Guard.